RA Business Advisors is an independent Chartered Accounting firm and Registered Tax Agent.
RA Business Advisors is a Brisbane based Chartered Account firm located in the inner city fringe suburb of Red Hill. Our firm was originally known as Rush Associates but was rebranded in early 2008.
Our team specialises in a wide range of services designed to assist our clients and their business. We assist with meeting taxation and corporate compliance obligations, whilst also helping achieve both short and long term goals.
We are committed and focused on providing personalised services to our clients; both locally, and throughout Australia.
We are a recognised Xero Silver Partner and Certified Xero Advisor - which we firmly believe is this world's leading online software.
Xero is a excellent tool which allows us to actively collaborate and communicate with our clients beyond picking up the phone.
Meet The Team
Patrick Rush B.Bus (Accounting) CA
Director & Owner
Founder and Managing Director of RA Business Advisors, Patrick holds a Bachelor of Business (with distinction) degree from the Queensland University of Technology. He is also a member of the Institute of Chartered Accountants in Australia, Taxation Institute of Australia and a registered Tax Agent.
Prior to becoming a Chartered Accountant, Patrick was involved in the ownership and management of several Brisbane based small businesses. These experiences combined with his extensive technical and professional training allows him to help small business clients with a very "hands on" approach.
Patrick has developed very close relationships with many of his business clients and goes to great lengths to ensure that he is actively involved in their businesses and always contactable for a chat when "something comes up".
Outside of work Patrick is kept busy with his large family and school activities (including Kindy Treasurer) or, of a weekend is trying to get to the ocean one way or another.
Carl Faumui B.Bus (Accounting) CPA
Accountant
Carl started his career with the practice in 2001 and holds a degree in Bachelor of Business from the Queensland University of Technology and is a Certified Practising Accountant (CPA).
Over the years he has been involved in a variety of the firm's accounting, taxation and business advisory services but he is also closely involved with all things Xero and Self Managed Superannuation Fund (SMSF) administration services offered by the firm.
His personal but also professional interest is IT management of the practice's processes and systems; overseeing the efficiencies and flexibilities of a paperless office.
Outside of the office Carl enjoys spending time with his family, which often involves trips to the beach. He enjoys basketball, tennis and body boarding. He is an avid follower of all things relating to technology and sport, in particular supporting Brisbane football teams.
Toni James B.Bus (Accounting)
Accountant
Toni commenced at RA Business Advisors in 2003 whilst completing her Bachelor of Business (Accounting) degree part-time. During her time with the practice she has been involved with many different aspects of individual and business taxation services for small to medium sized businesses. Juggling a big family, Toni is well aware of the importance of time management and organisation.
Outside of the office Toni loves being with family and friends and tries very hard to get to the beach on weekends.
Kristine Cailing B.Com (Accounting) MBA
Accountant
Kristine joined the team in 2012, bringing with her a Master of Business (Accounting) from the Queensland University of Technology as well as several years working experience in the accounting industry; both here in Australia and overseas. She is currently completing her CA qualifications.
Her personal interests include music, movies, travel, and enjoys spending quality time with her family and friends.
Lauren Frawley
Accountant - Undergraduate
Lauren joined the practice in 2017 after completing her high school studies at All Hallows' School. Along with her days at the office, she is currently undertaking a Bachelor of Commerce degree at the University of Queensland.
Outside of the office Lauren is an animal and art lover, and enjoys spends time with family and friends.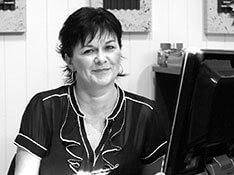 Christine Shanahan
Office Administrator & Practice Manager
Christine (or Chris to her friends, colleagues and clients) is the friendly face that greets you. Chris initially began her career in banking and administration; also becoming a Commissioner of Declarations in 2005. She joined the RA Business Advisors team in 2007 bringing with her over 20 years of experience in office administration and management; including client services, workflow control, and human resources. Always striving to further develop her skills Chris completed her Diploma of Business Management in 2011.
Chris' personal interest includes socialising with family and friends and enjoys regular trips to Straddie and the Gold Coast.